On this page you will find details of topics not covered on the other pages such as health, safety and parents' issues
Health Issues

Eating – We all know the reputation of school dinners, but for many school children, school lunch is the only healthy meal they get each day. Recently, the government, bowing to the pressure of a petition organised by celebrity chef, Jamie Oliver, pledged almost £300 million to be spent on improving school dinners. His Feed Me Better campaign is designed to educate both, children, schools and parents about the importance of healthy eating and a healthy diet.
Connected with this is the " School Fruit and Vegetable" scheme where every child aged 4-6 in a state school gets a portion of fresh fruit or vegetables to eat each day.
Wired For Health is a government based website which has different websites about health issues for children of different ages.
Walking to school – More and more children are now walking to school thanks to the "Walking Bus" campaign. Children wearing a flourescent jacket (for safety reasons) walk together along a designated "bus route" to their local primary school. They are chaperoned by a "conductor", who is a respinsible parent who is specially trained for this role. The advantage is that the children are getting regular exercise and there are less cars on the roads by the school.
Car sharing – Another way of cutting down on the number of cars outside schools, is for parents to share car journeys to and from school wherever possible. The School run organisation promotes this.
Bullying – Bullying is a situation that is completley unacceptable in this day and age, yet it is still occuring. Most schools now have an "anti-bullying policy" in place where they have listed the ways in which they deal with incidents of bullying. If you think your child may be being bullied, try and find out from him/her what exactly is going on. Don't be afraid of informing the school and keep on until the situation is resolved to your satisfaction. There are many organistions which can give you practical help with bullying and they can be found by pressing the link below.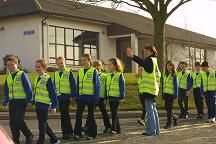 Safety Issues
school trips
Parents issues
complaining
Tutors – Many parents often use private tutors to help their children to prepare for an exam or to help them in a subject which they are struggling at. Below is a guide explaining what home tutoring is about, what to expect from a tutor and the advantages/disadvantages of employing a tutor.
Are you a private tutor? Can you recommend a tutor? We are currently compiling a list of private tutors from around the country.